Our master bedroom just received a fresh new paint color- and this time I chose a much lighter and brighter color...

seems to be more of a theme around here with paint colors these days

. ;) The last paint color was SW Intellectual Gray (which you can see here), and although it was nice, I didn't feel it went well with BM's Gray Owl that we have in the hallway.
So I decided to change things up in our room by just painting the walls!
Once I saw YHL's new master bedroom paint color, I knew it would be the color of choice for our bedroom as well. Here is a picture of YHL's master bedroom below.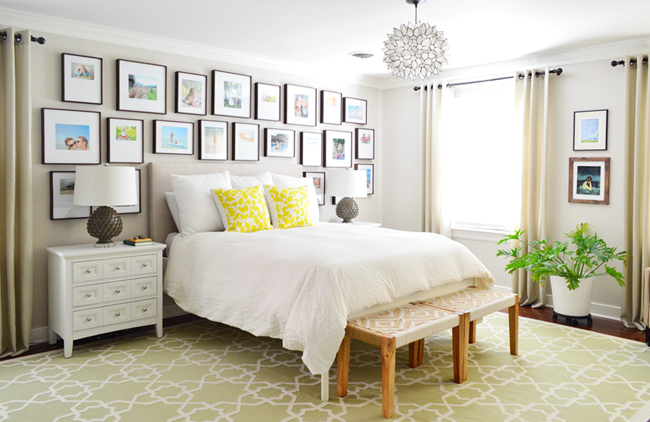 Beautiful, right??
I read their blog post to find out more information about what color they used and found out it was BM's Edgecomb Gray.
I laughed out loud because this color has been mentioned to me on several occasions by friends and I never thought I would ever use it! Ha! I guess there is a good reason why it is such a popular paint color...sometimes you gotta listen to the pros.
So here are some pictures of the freshly painted walls in our space.
This gallery wall is filled with all the things I love and even our girls stop and look at some of the pictures when they walk into our room. :)
Had to throw in a picture of our wedding cake. Loved it then and still glad we decided to go with such a bold choice!
It's true what a lot of people say about Edgecomb Gray- it's gray AND it's beige depending on the time of the day and/or the lighting present. It's a very pretty neutral that would work pretty much anywhere!