I have seen so many pictures out there of painted wood trim...I did it in our home to most of our trim. However, there is something special about leaving wood trim unpainted that I really like. When we bought our home a year ago, more than half of our downstairs had wood trim. The trim in the rest of the house had already been painted over with with white. Since it felt that our home seemed a little mismatched for having part wood trim and white trim, I went ahead and painted most of our wood trim white so our home had better flow. I didn't end up painting our doors and trim in the kitchen and our fireplace trim

(as you can see from the photo above)

because I knew the wood trim would add warmth and would look visually appealing.
A new trend that is out there at the moment though is painting the trim in your home black instead of white. I admit, I do like the look when it is done right, but I don't think I could paint all of the trim in our home black. Ever.

(ok, never say never, but it seems like a bit much to me)

However, some of these photos below are quite inspirational because only some of the trim has been painted black and it's got me thinking about painting over the wood in our home.
But don't worry, that hasn't happened and probably won't. ;)
My husband can now breathe a sigh of relief!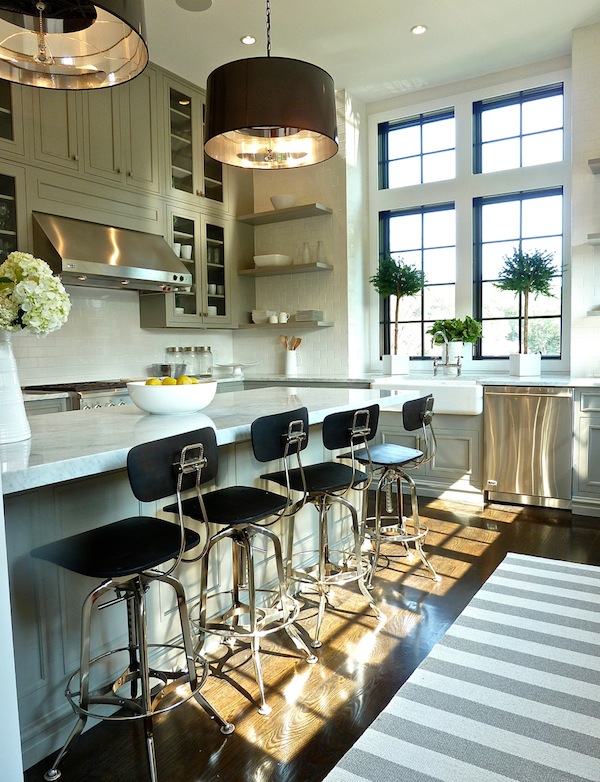 It does look very classy especially when it is paired with white cabinets or surrounding white trim.
But here is why I love what we have going on in our home.
To me, leaving wood trim left unpainted like this adds warmth and depth to a space instead of feeling like you are swimming in a see of white trim everywhere. It gives your eyes a place to rest.
What do you think? Do you prefer one look over the other?