Hi there and good morning!
I hope everyone had a wonderful weekend and a great start to the week.
Ours was pretty busy as we are gearing up for the arrival of another baby girl...we also enjoyed our time with some friends this weekend at their house on Sunday and their lovely array of pets which our daughter LOVED! Our friend cooked us a nice meal (including chicken cordon bleu) and later we had dessert and ice cream. "Yummy, yummy!" (That's what my daughter always says when it's time to eat!)
On Monday, we had more friends over for cheese fondue and later had delicious brownies to end the night.
I wanted to share the cheese fondue recipe with you because it turned out to be pretty tasty. All you need is some bread, diced apples, and vegetables to go with the fondue and you are set!
Here are the ingredients you need to start:
Now I tweaked this and didn't add as much cheddar cheese as the recipe calls for, and it still turned out great!
In a medium saucepan (or fondue pot) over low heat, mix together milk, Worcestershire sauce, ground dry mustard, garlic and flour. Heat until almost boiling. Gradually stir in Cheddar cheese. Continue heating until all the cheese has melted. Keep the mixture warm and melted in a fondue dish.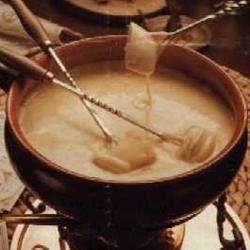 This recipe was found (or I shall say my husband found it!) on a website called allrecipes.com.
Have you made anything in a fondue pot recently?