Well, I finally think I can get around to thinking about paint colors for our family room and kitchen. Those areas all flow together because it is one big space and I want to keep the colors neutral in there but also keep them similar. Here is a reminder of how those 2 rooms flow together.
I am still not 100% sure of the colors I will use for the upper walls and the lower walls but I have an idea...that is one step closer to knowing what will go on the walls right? ;)
I was thinking of painting the upper walls in Benjamin Moore's Moonshine. I know it is a hot color right now...so many people are using it which is why I wanted to stay away from it for so long, but every time I saw the paint chip and looked at pictures online, I kept going back to it. So it is a strong contender. The other color I was thinking about was Gray Owl, also by BM, but I really don't think it will look right in those two spaces.
For the bottom walls I think I am going to use Sherwin Williams Shoji White. It is on the same color palette as the color Intellectual Gray I used in our dining room and the color I used on our kitchen cabinets...so that should flow well no problem. I am pretty sure I will use that color on the bottom half of the walls in these two rooms.
Since I am not 100% sure if I will be keeping the wood trim as is in here either, I wanted to use colors that would work with wood trim and white trim...and these 2 colors seem to me to be the perfect choice for that. We will see...I really don't usually buy paint samples and put them up on the walls because that method just never really worked well for me in the past. I think it is important to test out colors though if you are thinking about painting and aren't sure what color to go with because colors look different on paint chips in the store, in different lighting, and on the internet....I know I am being contradictory here but I don't think I will be testing paint colors....maybe it is because I can be pretty lazy too. ;) Yeah, that may be a BIG part of it!
Anyways, here are some pictures of BM Moonshine on the web I found that I really like.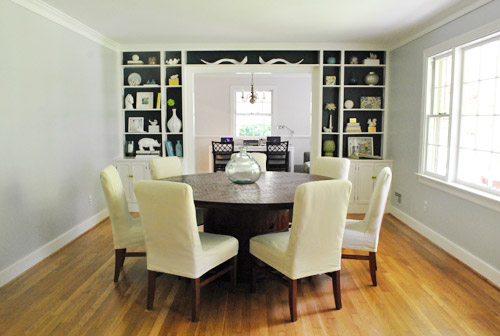 Young House Love image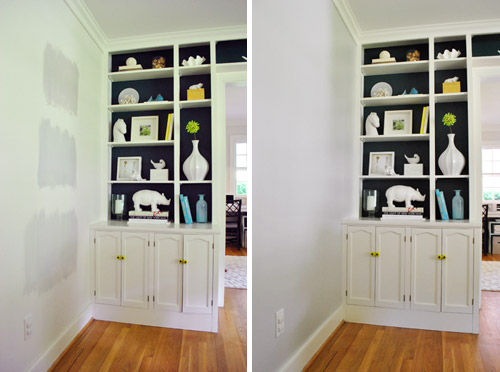 YHL image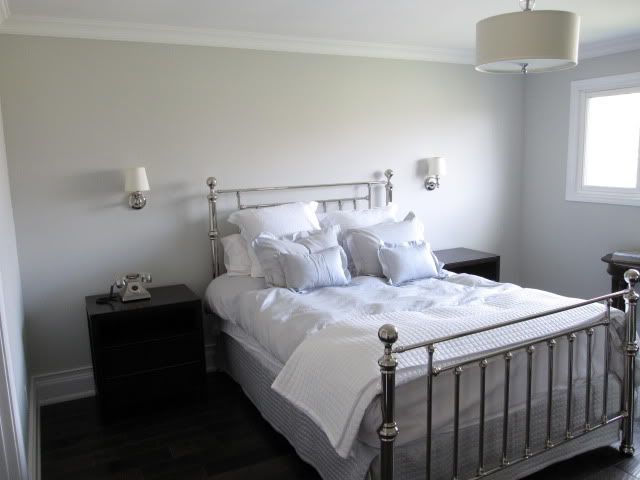 Overall, it is a very subtle color but we don't get a tremendous amount of light in the family room so I am hoping it will be a tad darker than some of these images show it to be.
Also, it looks like it plays well with wood trim, white trim, and pretty much any color.
Who knows when I will actually get time to paint but hoping by the end of the year? ;)
Thanks for stopping by!