Hi there! So we still haven't been able to get the family room changed up because, like I said in my last post, we have to get our old couch out of the family room in order to set all of the seating up. I tried to copy and paste a picture of what I am going to do with our family room so you get an idea, but couldn't get the program I was using to do that....
bummer
!!
I am trying to work on getting some kind of plan up on the blog so you can see what I am thinking about doing. Hopefully by later today I can do that so it is ready to post tomorrow.
But another quick recap- we do have a corner fireplace, which is great and all, but it makes it a little hard to position furniture in a room because of it. We want the fireplace to be a focal point, and not just the TV, so I have a few ideas of how to move our new furniture around so everything works around that idea.
So after searching, and searching, and searching for pictures that look like what our family room set up is like, this is the closest I came and I tell ya, it is pretty close to how our room is shaped! Yay for pictures on the internet!!
We have a corner fireplace just like the one here (except for all the pretty moulding) and a TV that sits on a white dresser like the one pictured below.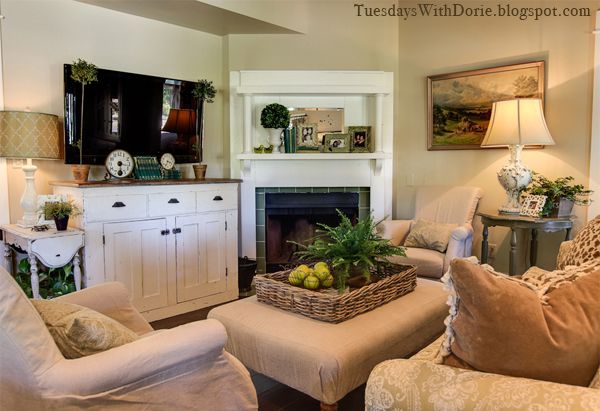 After seeing this photo and the size of the room, it made me excited because I'd like to do something similar with our family room. Ahhh!! The choices to make! :)
Hopefully I will be back with more pictures tomorrow for you.
Thanks for stopping by!