Happy Monday everyone!
I hope you had a great weekend.
My family and I spent most of the weekend hanging out together with friends, running errands and cleaning up the house. The last 2 don't sound that fun but it kind of was because I got to work on some more projects I had been thinking about. :) We invited some friends over so their son and our daughter could have a play date before bed time...then we, the adults, played some board games and munched on yummy snacks and desserts. We seriously would love to do that every week if we could!

Well, on to some of the DIY projects I completed this weekend...
To start, my husband and I hit up the local Thrift Store on Saturday with our daugther and found a beautiful piece of furniture for our dining room....sorry, no pics of that today but they will come, I promise! I just wanted to share that with you all because we moved our old table from the dining room to our family room and needed a buffet table...
Anyways, you might remember that I made over a dresser and used that as our buffet table in the dining room-
check it out here!
WELL.....I changed things up again...yep, once AGAIN, and had a new plan. This dresser has been changed around like 3 times already and each time I fall more in love with the transformation!
The plan was to move the dresser/buffet table to the family room and use it as a bookshelf (more on that soon) and put our new buffet table, which we purchased at the Thrift Store, into our dining room.
Our new buffet table really is a beautiful piece and I can't wait to upload the pictures of it to show on the blog.
Okay, so today I have pictures to share of how we paired
our old buffet table
with our Target bookshelves to make one big bookshelf piece for our family room.
To explain better, I have some pictures for ya. :)
So here are the Target shelves in our family room by the fireplace.
For a week these stayed here until I could figure out what to do with them.
Then it hit me! I could use the old dresser we had in our dining room and move it to the family room.
Then, I put the Target shelves on top of our dresser and BOOM! we had the bookshelves I had been dreaming of. And we didn't have to buy anything to make them! We just shuffled some pieces we already had in our house around a bit.
And I guess I should clarify that my hubby helped with most of this because there was no way I was moving all of this stuff around by myself! :)
Once I figured out that this was what I wanted, we started putting in the dresser shelves to complete the look a little more and I have to say that I love our new shelves!!!!!!
Like LOVE, LOVE them!!
I still have plans of placing a backing up on the back of the shelves and possibly paint that a navy color.
I am also working on a DIY project for our armchairs involving the color navy and will share that this week too!
You can see one of our armchairs in the picture above...and my plan for these armchairs involves paint (in the color navy) and removing the slipcovers. I am a little sad to see my hand-made slipcovers go, but I will keep them on hand just in case I want to use them again in the future. ;)
And we changed up the fireplace a little bit too.
With the birthday money I received from my parents, I decided to by a bronzed circular mirror I had been eyeing from Home Depot a few months back.
And here is a picture of the shelves and our new fireplace mirror together. :)
So what do you think about the room coming together like this?
Do you love it as much as my family and I do?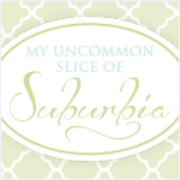 Have a great start to the week, everybody and thanks for stopping by!