So I am in the process of working on a table for our entryway.
We bought this table at the thrift store and guess the price......
Now we know it needs a lot of work, but nothing too major that we can't handle and for the price we paid, it can look fabulous with just a little work.
Plus it is the perfect size for placing my computer and storing other essential items.
You can see that the reason the drawers are a little wobbly is because the bottom of the drawers need to be reinforced with extra wood.
We are working on getting that part completed soon.
But until then, I was ready to paint this table...
so......
I sanded the top of the desk down to keep the original wood (because I love the original wood finish) and painted the rest of the piece with some left over Sherwin Williams Sea Salt.
Oh, and I also made sure to stain the top of the desk with some left over Kona stain from Lowe's.
Still more to do, but it's looking fabulous already!
Stay tuned for more to see the final reveal. :)
Linking up to: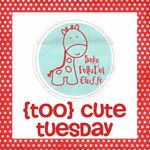 Have a wonderful Tuesday and thanks for stopping by!