You know, when I first bought our Kona Stain at Lowe's, I immediately thought of the place my hubby and I honeymooned 3 years ago...Kona, Hawaii!! Not to get off on a tangent here (although, I already have), but when I saw the label that read "Kona", that was when I seriously considered buying this type of dark stain. I really loved the dark color of the Kona stain and do have to admit that I also bought it because of the sweet memories we had in Hawaii. Call me crazy, but it was almost like it was meant to be. :)
I originally was planning on getting the Bombay Mahogany stain (which I have read about on other blogs) from Lowe's until I saw that they had a Kona stain.
Anyways, this was a project that I have been meaning to do for a while and I knew it wouldn't take long to stain the banisters, so I started earlier this week. All I had to do was remove the two banisters from our stairwell, place them in the garage for proper ventilation (after opening the garage door, of course!), and use my paint brush to rub on the stain.
Here is a before and after of the banister and there will be more pics to follow in this post.
So, before, we had this orangey-oak color on the banisters.
It may be hard to tell in this picture, but there was a really light stain on them already that wasn't meshing well with our home.
I set out the two banisters in our garage and started painting away!
Can you see the difference in the two banisters?
The one on the left is the original color of the banister and the one on the right is after the Kona stain was applied.
After the stain dried, it was time to hang the banisters up in the stairwell.
Oh, and ignore the block of paint above the banister. It isn't sample paint, don't worry. :)
This weekend we are going to paint over it.
I really love the dark, rich color on the banisters now. It fits in quite nicely with our home and goes really well with our wall color.
This chair was the first DIY reupholstering job I had done and love how it turned out! It helped me feel better about recovering other furniture around the house.
Have you ever stained furniture in your house? If so, what did you think of the new look?
I'd love to know! :)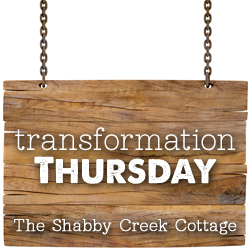 &
&
&
&
&
Thanks for stopping by!