a mirror and a bunch of left-over wooden skewers make??
If you guessed a sunburst mirror, you would be CORRECT!!
For this project, which took such little time to complete, I used a mirror that was purchased at JoAnn's for $1.49, wooden skewers, and my handy-dandy hot glue gun. I will talk about how I hung this beauty up on our wall later on in the post, but this DIY project only calls for 3 materials and you can't beat that!!
Once the materials were all gathered together, I turned over my mirror so that the back of it was facing upwards. Next, I laid out all of the wooden skewers along the back of the mirror before I glued them on.
I wanted the skewers to be an even (or semi-even) distance apart from eachother, so it took a little bit of time to lay them out before I started gluing them onto my mirror.
After the glue gun was hot and ready, it was time to glue away.
Not only did I glue under the skewers, but once the glue set onto the mirror, I added more glue on top of the wooden skewers for more firmness.
You can see how messy it looks in the picture below. But don't worry, it turns out pretty fabulous once you flip your mirror over to the other side! :)
Once the pieces were dry, which didn't take too long at all, I held my sunburst mirror up to the wall for some photos.
I am in love with my new mirror!! I couldn't believe how easy and cheap this was to do considering how much some of the sunburst mirrors go for these days.
Here is the empty little space where I was going to hang my sunburst mirror.
Now in order to hang this puppy up on the wall, I needed to have some kind of clip attached to the back of the sunburst mirror. So how did I do that?
Well, a few months ago my family and I were shopping at Target when we stumbled this little guy (pictured below) in an aisle with some other hanging tools and decided it would be a good purchase for us. We were right!!
This simple looking hanging clip was all I needed to hang up my new mirror!
Are you wondering how I even attached the hanging clip to the back of the mirror?
Easy! I hot glued it on! hehe...maybe that is a no-no in the design world of blogging, but I did it anyways and that clip won't be going anywhere. Plus, all I needed to do next was decide where I was going to hang my nail and that's it, no additional clips were needed.
So the mirror now hangs next to my office desk and chair and I am in love!
And one more before and after, shall we?!
Have you found a creative way to make a sunburst mirror?
Linking up here: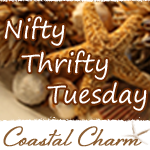 &
Thanks for stopping by!