Our guest room has been done for quite some time now, but I just haven't gotten around to snapping some pictures of it for the blog yet....that is, until now! I will try and share as much detail about this room as possible and there will be more information about where everything came from at the end of this post.
First, I had to post a picture of our little bug because she really wanted to have her picture taken. She kept crawling around the room while I was snapping photos just so she could be in them.
I love that this picture captures her beautiful smile. :)
The wall shelf was a purchase at a thrift store in our area which donates money from each person's purchase to a children's hospital nearby. We bought it for $4.00 and I painted it with Sherwin Williams Extra White paint in flat finish.
I love that the shelf holds little knick-knacks and stuffed animals for our daughter. :)
For some reason I found it kind of fun taking some of the pictures from the floor. Maybe it was because that is how my daughter sees things for now and it gives such a different angle than what I am use to. :)
The jewelry holder, pictured below, was a Christmas gift given to me by my mother-in-law. It works great with the colors of this space and adds a little BLING to the room!
The gray patterned bin on the top of the dresser came from Target in the Dollar Section! Gotta love a purchase for $1.00!!
The canvas photo in the background was another DIY I did long before I started blogging. I made the flowers out of toilet paper rolls and had them spray painted in Rustoleum's Gloss White. It was a fun project that was quick and cost little to complete.


Do you see that little lamp there in the corner on the nightstand?? Well, I would like to donate it and buy a cuter one for the room someday. For now, it works as a good reading light for guests when they visit, but I am on the hunt for something more up-to-date.
In this picture, you can see the poms I made out of white and yellow tissue paper which I bought at the Dollar Store! I hardly ever shop for items at the Dollar Store, but I knew they had to have tissue paper which I could get for less and that is why I bought it there.
See the end of this blog for the link on how to make them! They are fun to do and add some instant color to the room.
This is my sweet guitar that sadly I don't even know how to play. (Silly, I know, but I am determined to learn how to play that instrument someday!) Maybe my family and I can all take lessons together in the future. :)
Another shot of the dresser and the shelf.
You can also see the
clipboard art
I made with some left-over fabric which I bought at JoAnn's on sale.
The three framed pictures you see above the bed were edited in Picasa and printed to add personal art to the room. I can't believe that our little bug was about 1-2 months old in those pictures. Time sure flies, doesn't it?!
We don't have a headboard yet, but since this room will eventually become my daughter's room in a few years, so we might wait a little longer to put one up.


The room isn't large, but that makes it a nice cozy place for guests to stay.
Now on to more of the details of this room!!
*****************************************
1. The dresser we bought at the Thrift Store for $30.00 (can you believe that??) and I painted it with the same color as the wall color, a mix between Sherwin Williams Accessible Beige and Dorian Gray, which was some left-over paint we had on hand.
2. Wall color is a mixture I made on my own (as stated above) of Accessible Beige (only a sample size amount) and Dorian Gray- both by Sherwin Williams. This room gets soooo much natural light so going with a darker color on the walls works for this space.
3. The wall shelf was another Thrift Store find for $4.00 and I painted it with some leftover white paint from Sherwin Williams.
4. I bought some yellow floral fabric from JoAnn's on sale and made the pillow case in the picture above. I also added the same fabric to the dresser to pull the room together.
5. The clipboards I had on hand from teaching back in Florida, so they were essentially free, and I covered them with the leftover yellow fabric.
6. The gray and yellow striped curtains are from Hancock Fabrics and also were on sale for $5.00 a yard!!! I couldn't believe the final price and only paid $20.00 for this fabric. I think it was originally priced at $20.00 a yard! :) Don't you just LOVE a good deal?!
7. The duvet cover and bed sheets are from Target....on sale for $15.00.
8. Frames are from Target ($4.00 each) and I used Picasa to add some drama to them before framing and hanging them up.
9. End table was from Chris' old space years and years ago. I spray painted it with Rustoleum's High Gloss paint in white.
10. The gray trays are from Targets $1.00 section so I bought two of them.
11. The hanging Pom Poms are made of Dollar Store tissue paper so I paid $2.00 for them and made the Pom Poms myself with an online tutorial found
here.
The gray ribbon used to hang the Poms from the ceiling are also from the Dollar Store.
12. We purchased a pack of ceiling hooks from Lowe's for about $3.00 and used them to help hang our Poms.
13. Silver curtain rod and curtain rod clips were bought at Target.
14. Everything else used in this room was already owned or handed down to us as a gift.
I think that about does it for the room. The total cost of redoing this room cost under $120 because most of the things were either already owned or bought at the thrift store or on sale somewhere.
I am sure there will be small changes made to this room along the way, but for now it is perfect.
Also, please check out where this room was featured!!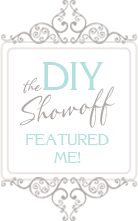 Thank you, Roeshel, for giving me the opportunity to share my space with more readers!! :)
I was also featured at a wonderful blog called Creatively Living!!
Katie, thank you so much for featuring my guest room on your blog and thank you for the sweet comments about my DIY projects.
:)
Thanks for stopping by!