Well, I didn't get to post yesterday because things were pretty buys around here with doctor's appointments, errands to run, cleaning for guests coming in this weekend, etc. And I know I said a few days ago that this post will be about the refinished side table, but it is not done yet. :(
I was going to spray paint it today but we ran out of one of the cans of spray paint and the trigger broke on the other can we had (HA!). Therefore, later today, the family and I will be making a stop at Lowe's to buy more Rustoleum High Gloss White spray paint so that my side table gets an even painted look. So, hopefully there will be a post about it on Monday when it is all complete! Guests will be visiting us until Sunday, but I will have Sunday night and Monday morning to get it done which will be plenty of time.
Since the side table is not fully ready, I wanted to put up some pictures of different fabric patterns and colors I really would like to put in our family room. The family room is painted Kilim Beige by Sherwin Williams right now, which is a beautiful color, but it just doesn't work near our fireplace...and probably because we get little light by the fireplace so the color looks a little yellow. It looks great everywhere else so I might just change that wall to be an accent wall and use another paint color. I don't know yet... and it can be hard to find the right paint color. I don't enjoy buying many paint samples at the paint store because I am pretty impatient and just want the walls to be finished. :) Oh well, it will get done soon enough and when it is finished, the room will feel like us. The reason I mention all of this about paint color is because I am hoping that if I find some great fabric soon then I can use it in our family room which, in turn, will help me to choose the right paint color for our living space.
Okay, so here are some fabrics, rugs, etc. that have caught my attention recently and would look great in our family room:
This rug is from Shades of Light and is a fabulous trellis rug. I love it!
This picture is from decorpad.com and it is a chic and clean space. Although not a huge fan of the wall color, the sofa and chairs are gorgeous and I would like something like this in our family room. I also love the set up and this would definitely work for us!
Apartment therapy's website has some neat pillow designs. I think my 3 favorites are the second and third ones on the top and the bottom right one. Beautiful!!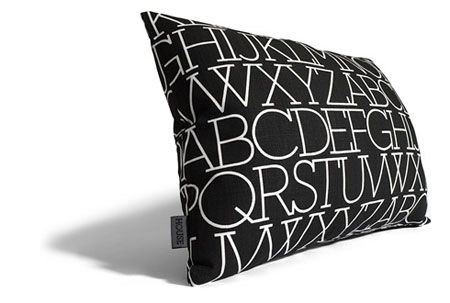 What a fun pillow pictured above!! Although it wouldn't go with our family room decor, it would be perfect for a child's room or play room!
Love, love these patterned pillows especially in green and blue. Would go perfectly with the curtains I made for the dining room. :)
And of course the pictures below are from PotteryBarn's website and theire pillows are so pretty and elegant.
Here are some fun patterned pillows pictured below!!
And a few more:
With so many choices, it is hard to narrow down only a few items for our family room...but these are some great jumping off pieces for me and it's nice to have variety.
Thanks for stopping by!