Well hello there! I hope everyone had a Happy Easter!!! We sure did and we loved celebrating our Risen Lord and Saviour at church yesterday with our friends. :) He is risen!
We also took a mini-vacation with some friends this weekend to the mountains and had a lot of fun. We did some trail hiking, saw a waterfall, ate out, did some shopping, and played with the kiddos. It was really neat seeing Tess interact with another baby. I love watching her play with other kids because she is so sweet with them. She will be a great older sister someday. :)
****************************************
This week, I plan on posting about some projects I began last week that I still need to complete. Here is a quick list of what I plan on blogging about in the next few weeks:
1. Script drop cloth canvas curtains for dining room. I saw these on the DIY ShowOff blog and they are pretty awesome! I plan on doing this soon because I can't wait to get them hanging.
You can even use this fabric to cover a lampshade! I love the idea!
2. I also plan on making or buying a wreath for the dining room window. I have seen this idea in some magazines and on some blogs and I really want to do it too.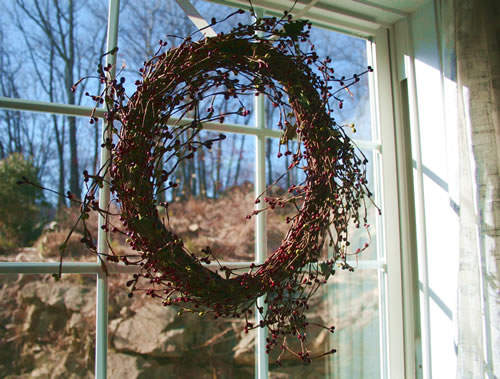 From Your Home Only Better blog
3. Convert a small ladder into a rack for a magazine or a towel holder.
I am not sure when this project would be done, but it has been on my list of things to do for a while and I have a few places where something like this could go.
Cory Connor Designs
4. Place a corner desk on the stair landing for storage.
DIY ShowOff
5. Cover an ottoman with canvas dropcloth and cover the top with the scripted canvas cloth. (Another DIY project).
6. Paint current TV stand white.
I have been wanting to do this for a while but just wasn't sure it would be the right decision. Right now the stand is a dark wooden brown and it looks a little heavy in our family room so I would like to lighten the space by painting it. It would be a BIG project but I am hoping to do that sometime soon!
7. Hang other DIY mirror in dining room! The mirror is finished but I have just been a little bit lazy and haven't got to putting it up on the wall yet. Oops!!
8. And lastly, at least for now, I would like to make an ABC chair for Tess.
DIY ShowOff
That's it for now!
Thanks for stopping by and have a wonderful Monday!